Follow us on Facebook, click here!


2019 Application for Prepaid Greens Fees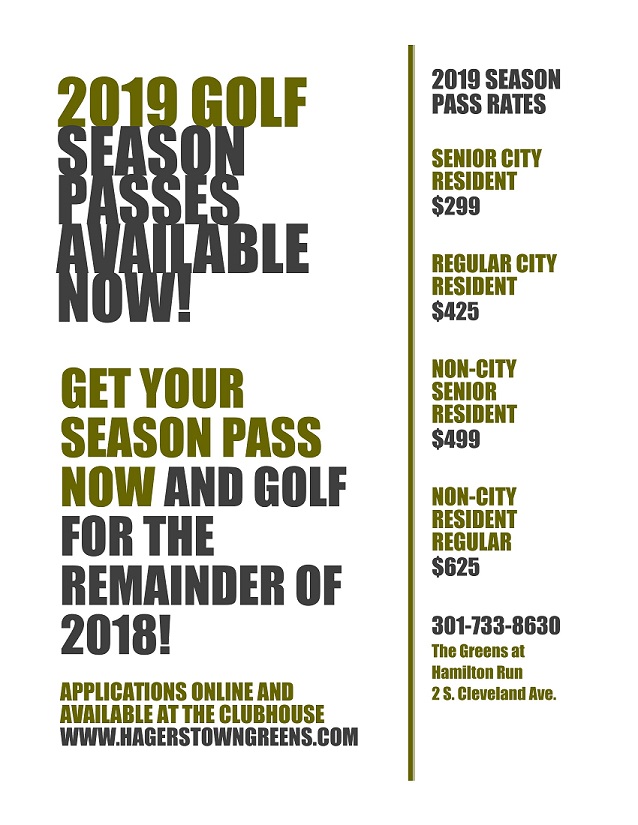 ---
2019 SEASON PASSES ARE AVAILABLE - NOW OPEN TO NON-CITY RESIDENTS
Season passes for greens fees are available for purchase. This year we have returned with the Non-City Residents Season Pass after input from the public. The following are the rates:
City Residents: Senior(62+) $299 Regular $425
Non-City Residents: Senior(62+) $499 Regular $625
Applications are available on our website. Or, stop by the clubhouse for an application or contact Orion Kimberlin, Recreation Assistant at 301-739-8577 x 883, okimberlin@hagerstownmd.org
---
Regular green fees and cart rental rates apply during this time. Rates are as follows:
Greens Fees:
Adult (17-61): $11/9 hole $14/18 hole
Seniors (62+): $9/9hole $12/18 hole
Weekends/Holidays: $14/9hole $17/18 hole
Cart Rentals:
9 holes: $8
Senior 9 holes: $7
18 holes: $12.50
Senior 18 holes: $10.50
Pull Carts: $2.50
Children under age 16 play free (greens fee only) with parent. Applies to one child per parent and charge for cart does apply. Applicable all times EXCEPT weekends (Saturdays and Sundays) before 2:00PM.