OPEN FOR THE SEASON!
We are open for the season and will be operating 9am-5pm for the month of March.
2019 Golf Memberships are on sale at the clubhouse, call ahead for details 301-733-8630
---
The Greens at Hamilton Run is a beautiful golf course that is owned and operated by the City of Hagerstown. Nestled along Hamilton Run, this 9-hole, par 35 course features two par 5's, four par 4's, and three par 3's that will challenge golfers of all ages and abilities. The course is CONVENIENT as it is adjacent Route 40 and visible from the Dual Highway. Golfers also enjoy a QUICK round of golf compared to other local courses. Finally, the course is competitively priced and our goal is to be as INEXPENSIVE as possible to meet the budgets of all golfers.

ENJOY OUR AFFORDABLE RATES! The new club house area includes food and beverages, an improved pro shop, and an indoor eating/lounge area. The new exterior deck will also provide a great place to relax between or after your rounds.
---
Begining December 10th, take advantage of our Honor System!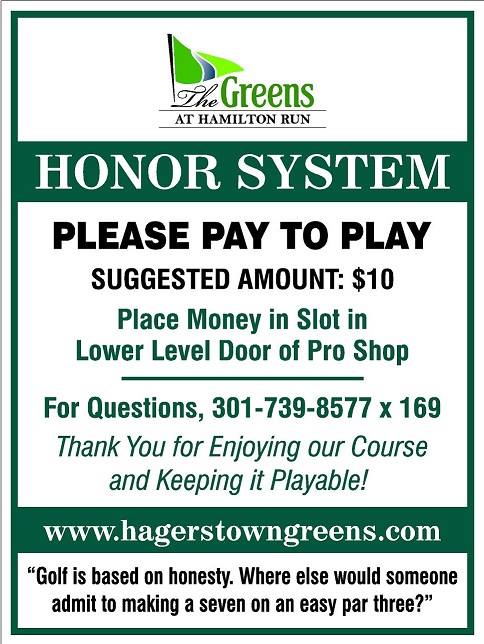 ---
Tee Up for Health
Men's Health Talks at Hamilton Run Clubhouse

Join us for informal health talks with healthcare professionals geared specifically for men. These events are brought to you by Meritus Community Health Education Outreach and Hagerstown Parks & Recreation.
Registration is required. Please visit the Parks & Recreation website www.hagerstownmd.org for more information.
DATES & TOPICS INCLUDE:
Wednesday, May 22, 2019 6:00-7:00 pm. Sports Injury Prevention & Treatment
Wednesday, July 17, 2019 6:00-7:00 pm. Urological & Prostate Health
Wednesday, August 21, 2019 6:00-7:00 pm. Opioid Sparing Joint Treatment Options


MSGA Members

Course Rating:

Blue Men 31.9/100 31.9/100
White Men 31.5/98 31.5/98
Gold (M) 30.2/90 30.2/90
Red (M) 30.0/88 30.0/88

Gold Women 31.0/102 31.0/102
Red Women 30.6/99 30.6/99